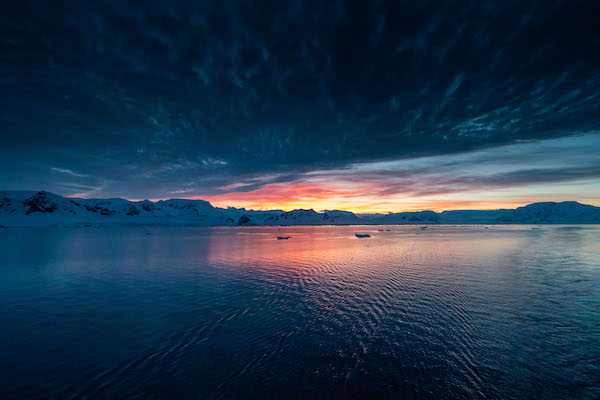 November is the very start of the Antarctic tourist season. Summer is just beginning and the abundant wildlife becomes more active.
The days are still cold though and temperatures are generally below freezing. Large ice floes and glaciers still remain in November creating some incredible natural ice sculptures.
The seas are often slightly rougher in November, but cruise ships always find secluded bays which counteracts any adverse weather conditions. Snow covers much of the landscape in November, offering beautiful photographic opportunities. Although the weather may be slightly worse in November, clear days are notable for their long sunsets which can last hours.
Penguins species like the Adelie, Gentoo and Chinstrap begin coming ashore in November. Visitors in November will be able to witness the penguins begin their nest building and courtship rituals. November in Antarctica is also the period in which weddell and fur seals are mating.
If you're lucky enough to visit South Georgia as part of your itinerary then you will also see the large beach master elephant seals battling for supremacy of the females during November. It's a brutal, but unforgettable sight. King penguins line the island's beaches in their thousands. Many of the females carry their eggs on their feet whilst their mates hunt for food.
If you visit the Falkland Islands on your trip, you'll see the landscape blooming in wild flowers of all different colors.
During November, select operators also offer icebreaker cruises to the Weddell Sea in search of elusive emperor penguins.
November is definitely a great time to visit Antarctica, especially for landscape photographers. Because this is the shoulder season, cruise prices are also lower which may interest people on a budget.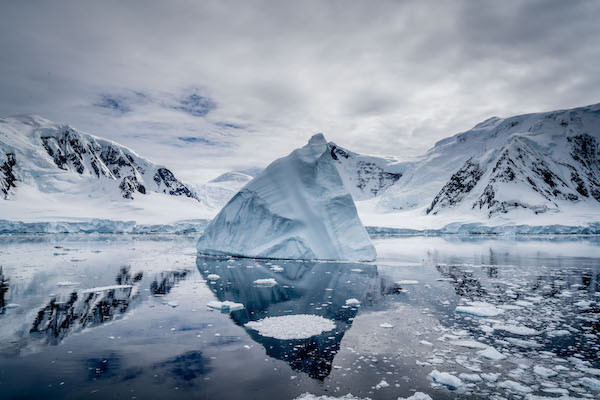 Reasons to visit Antarctica in November
Photographers will love the long sunsets on clear days

Snow is still heavy on the ground, making for

idyllic

landscapes

Witness penguins

courting

and nest building

Witness incredible glaciers before they have melted

Cruise prices are lower in November
Things to consider
Inclement weather is more common in November

Temperatures are colder than in the high season

Whales are still frequently seen, but less commonly than later in the season
Common questions regarding Antarctica in November
Am I guaranteed good weather?
Weather conditions in Antarctica are never guaranteed, regardless what month you travel. However, November is particularly unpredictable and sunny days are not as common as they are later in the season.
Can I fly to Antarctica in November?
Unfortunately, the air strip on King George Island only opens from the 1st of December. This means that during November, express cruise itineraries are not available and you must sail across the Drake Passage to reach Antarctica.
What activities are on offer in November?
Because the landscape is covered in heavy snow, skiing and snowshoeing are popular during November. There is also the option to kayak and camp, but it will be colder given the early season weather.
Is November good for wildlife watching?
Yes, Antarctica in November is great for wildlife watching. Penguins are building nests and beginning their courtship rituals. However, if you are after whales, then late in the season would be better.
Is it cheaper to travel to Antarctica in November?
Yes, the shoulder months around the high season are cheaper. This is mainly due to the unpredictable weather. There are also more cabin choices available.
Is Antarctica in November good for photographers?
This really depends on the weather you get. If you experience good weather, November is potentially the best month to visit Antarctica for photographers because of the long sunsets and pristine landscape. It's a risk you need to weigh up.
Get a Cruise Quote, Now!
Antarctica Guide do not sell tours, we simply provide impartial advice. If you would like an exact quote with our recommended specialist click Get a Quote.
FAQ
If you would like to know more about Antarctica in November please leave a comment below and we will endeavor to get back to you within 24 hours! Alternatively, please see our FAQ page here. If you would like to get a cruise quote, please use this form.
Thank you - AntarcticaGuide Team
You may also like...