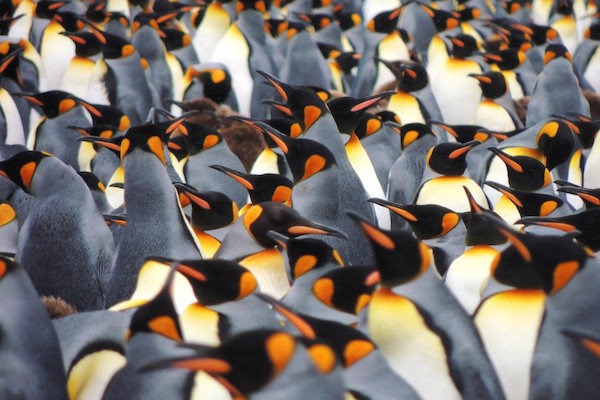 March in Antarctica is the best month for whale watching. You are guaranteed excellent encounters with these gentle giants and fewer ships in the region makes for a tranquil experience.
Temperatures become colder throughout March and the weather becomes more unpredictable, especially in the last two weeks of the season.
Weather conditions change fast in March. The sun sets 15 minutes earlier each day and temperatures rapidly decrease as the month draws to a close.
Because the sun is low on the Antarctic Peninsula in March, it creates amazing sunrises and sunsets when visible. This makes March in Antarctica particularly tempting for photographers.
March in Antarctica is a great time to watch penguin chicks swimming in shallow pools. They are also very curious at this age and many chicks will approach onlookers without fear.
March is the best time to see king penguin colonies on South Georgia. Thousands upon thousands of the brightly colored penguins fill the large bays. This is also the best time to see macaroni penguins.
By March, much of the sea ice has returned, making itineraries such as Crossing the Antarctic Circle no longer possible. Some popular beauty spots such as the Lemaire Channel may also be difficult to reach.
Because March in Antarctica is classed as the 'Shoulder Season', Cruise prices are relatively low compared to the high season. Therefore, if you are on a tighter budget and love watching whales, March may be the best time to visit Antarctica.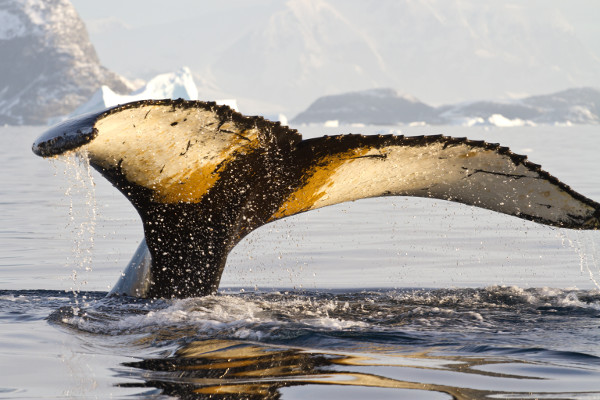 Reasons to visit Antarctica in March
Whale encounters are at their best and most

frequent

in March

The sun is low in the sky, often creating stunning sunrises and sunsets

Penguin chicks play in the shallow waters and are very curious

Prices are lower in March
Things to consider
Weather is more

unpredictable

in March

Temperatures rarely exceed freezing and are often well below

Less itinerary and ship choices
Common Questions regarding Antarctica in March
Am I guaranteed good weather?
No. Weather is never guaranteed in Antarctica. This is especially true in the shoulder months such as March.
Can I fly to Antarctica in March?
The air strip on King George Island closes in mid-February. If you wish to take an express cruise to avoid the Drake Passage then you will need to travel before its closure.


What activities are on offer in March?
Kayaking is still a popular activity in March. However, due to the shorter days, camping is often not possible. Snowshoeing is sometimes possible if there has been thick enough snow fall.
Is March good for wildlife watching?
Yes, Antarctica in March is probably the best month for whale watching. The humpbacks and minkes are very curious in March having finished gorging on krill. Penguin chicks are still playing in pools and king penguin colonies are at maximum capacity in South Georgia.
Is it cheaper to travel to Antarctica in March?
March in Antarctica is known as the 'Shoulder Season' and cruise prices are lower because of this. Expect to pay 25% less than you would inn the high season.
Is March in February good for photographers?
Antarctica in March is a great time for photographers due to the shorter days which create mesmerizing sunsets and sunrises.
Get a Cruise Quote, Now!
Antarctica Guide do not sell tours, we simply provide impartial advice. If you would like an exact quote with our recommended specialist click Get a Quote.
FAQ
If you would like to know more, please leave a comment below and we will endeavor to get back to you within 24 hours! Alternatively, please see our FAQ page here. If you would like to get a cruise quote, please use this form.
Thank you - AntarcticaGuide Team
You may also like...