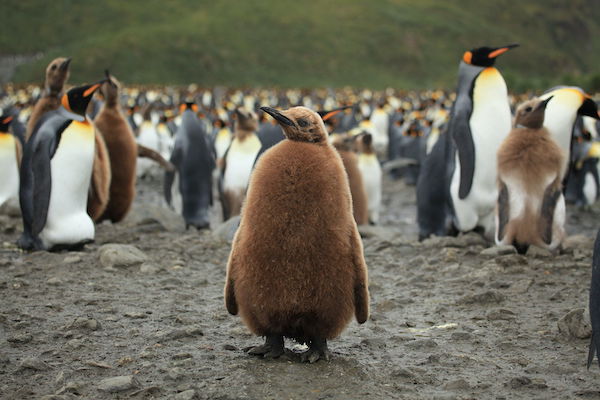 January is the height of the Antarctic tourist season. Temperatures are at their warmest and the peninsula is awash with penguin chicks.
Because January is the peak of the Antarctic summer, temperatures are regularly above 10 C / 50 F. This makes hiking and other activities such as Kayaking and camping a real joy.
The higher temperatures melt much of the sea ice surrounding the Antarctic Peninsula, allowing cruise ships to offer more itineraries, including the ever-popular 'Crossing the Antarctic Circle' voyage.
January in Antarctica provides a unique window to explore the Ross Sea where, if weather allows, you can visit the historic huts of Shackleton and Scott. All the popular sites along the peninsula are ice free, allowing you to see the most magical locations such as the Lemaire Channel.
Penguin colonies are buzzing in January with thousands of cute, fluffy chicks calling and chasing their parents for food.
Both humpback whales and minke whales are seen regularly in January with more and more arriving from the tropics in search of krill. Orca are also spotted quite frequently and you may be lucky enough to see a hunt.
Cruise prices are at their highest in January thanks to the warm weather and you'll need to book well in advance to secure a berth.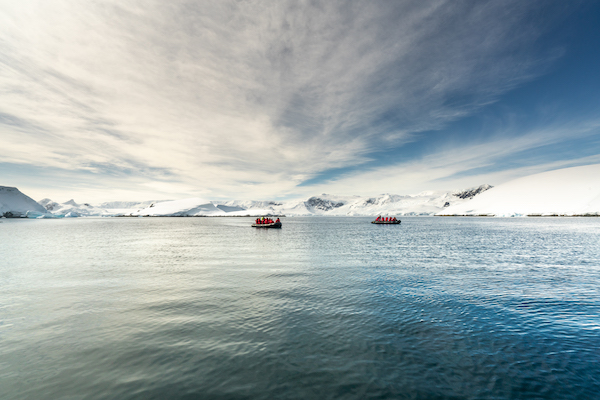 Reasons to visit Antarctica in January
You'll see

thousands

of adorable penguin chicks all fluffed up in their juvenile coats

21+ hours of daylight each day giving you plenty of time to watch wildlife

Temperatures are at their warmest in

January

– 15 C is not uncommon

Maximum landing site options due to the lack of sea ice

You can explore the Roos Sea and journey to 66 Degrees South
Things to consider
Epic glaciers are much rarer in

January

, most having melted considerably

Prices are at their highest

The landscape is more rocky than snowy
Common Questions regarding Antarctica in January
Am I guaranteed good weather?
Weather conditions in Antarctica are never guaranteed, regardless what month you travel. However, January certainly gives you the best chance of getting fair weather. This is the warmest month and storms are far less frequent in this period.
Can I fly to Antarctica in January?
What activities are on offer in January?
Because there are 21+ hours of daylight during January, most of the popular activities are available such as Kayaking and camping. This is also a good month for scuba diving. However, due to a lack of heavy snow, skiing and snowshoeing are not possible.
Is January good for wildlife watching?
Yes, Antarctica in January is excellent for wildlife watching. Penguin chicks are everywhere and their cut fluffy coats make for excellent viewing. Whales are also frequently seen, as are petrels and albatross.
Is it cheaper to travel to Antarctica in January?
Cruise prices are at their highest in January. The warm weather pushes the price upwards and you can expect to pay 25% more than you would in the shoulder months. You will also need to book well in advance if you wish to travel in January. We recommend a minimum of 12 months.
Is Antarctica in January good for photographers?
Yes, the long days, cute penguin chicks, whales, and numerous landing sites make Antarctica in January a great time for photographers.
Get a Cruise Quote, Now!
Antarctica Guide do not sell tours, we simply provide impartial advice. If you would like an exact quote with our recommended specialist click Get a Quote.
FAQ
If you would like to know more about Antarctica in January please leave a comment below and we will endeavor to get back to you within 24 hours! Alternatively, please see our FAQ page here. If you would like to get a cruise quote, please use this form.
Thank you - AntarcticaGuide Team
You may also like...