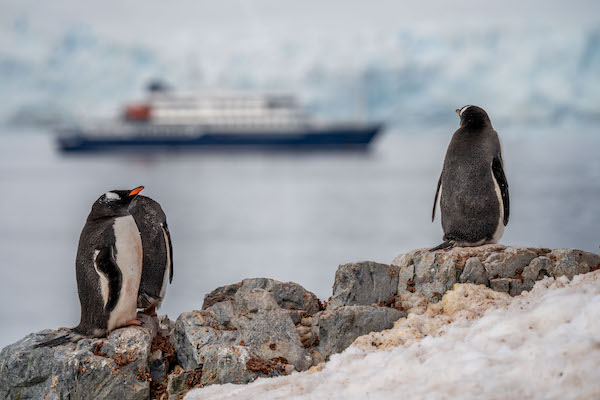 February in Antarctica is arguably the best month for wildlife watching. Temperatures are still warm and penguin colonies are packed with greedy penguin chicks chasing their parents for food.
Although the weather becomes more unpredictable as the month goes on, temperatures are regularly above freezing and it's not uncommon to experience temperatures of 10 C / 50 F on the Antarctic Peninsula.
By February, the sea ice has retreated to its maximum level, making itineraries such as Crossing the Antarctic Circle very poplar. All landing sites are open and cruise ships can visit most locations uninhibited.
By mid-February, most of the migrating whale pods have arrived in Antarctica, providing victors with numerous sightings. Zodiac tours frequently come across whales, as do kayaking trips. Because the whales have now fed, they are much more curious in February, often approaching boats.
Penguin colonies are buzzing with hungry chicks. Watching them chase their parents up and down the beach for food is a firm favorite among travelers. Their coats are still fluffy, making them look adorable as they learn to swim in the shallow pools.
Cruise prices are still high at the start of February, but become slightly cheaper as the month ticks on.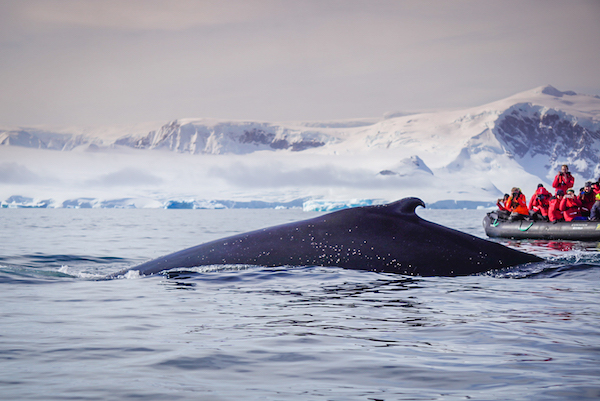 Reasons to visit Antarctica in February
Penguin chicks are all fluffed up and learning to swim which is great to watch

February

is arguably the best month for whale watching

Temperatures are still warm compared to shoulder season and

weather

is stable

Leopard seals are in full predation mode in February

Sea ice has

retreated

allowing visitors to journey to

66 Degrees South
Things to consider
Glaciers are at their smallest in

February

Prices are still much higher than the shoulder season

The landscape is more rocky than snowy
Common Questions regarding Antarctica in February
Can I fly to Antarctica in February?
The air strip on King George Island closes in mid-February. If you wish to take an express cruise to avoid the Drake Passage then you will need to travel in the first half of the month.
What activities are on offer in February?
Is February good for wildlife watching?
Yes, Antarctica in February is probably the best month for wildlife watching. Penguin chicks are learning to swim, leopard seals are on the hunt, and whales are at their peak population.
Is it cheaper to travel to Antarctica in February?
February in Antarctica is still classed as the 'high season' and prices are higher than in the shoulder season. The wildlife watching opportunities more than make up for this though, as does the fair weather.
Is Antarctica in February good for photographers?
Antarctica in February is a great time for wildlife photographers due to the numerous penguin and whale encounters. Landscape photographers may want to consider the shoulder season when the sun is low and creates amazing color in the sky.
Get a Cruise Quote, Now!
Antarctica Guide do not sell tours, we simply provide impartial advice. If you would like an exact quote with our recommended specialist click Get a Quote.
FAQ
If you would like to know more about Antarctica in February please leave a comment below and we will endeavor to get back to you within 24 hours! Alternatively, please see our FAQ page here. If you would like to get a cruise quote, please use this form.
Thank you - AntarcticaGuide Team
You may also like...